The Department of Health Care Finance (DHCF) in Washington DC, the District's Medicaid agency, works to improve health outcomes for the local community. To that end, DHCF launched the District of Columbia Access System (DCAS) in 2013. DCAS is an integrated eligibility system for programs including Medicaid, the Supplemental Nutrition Assistance Program (SNAP), and Temporary Assistance to Needy Families (TANF).
DHCF needed a learning solution to integrate with the existing MyDCAS Internal Website Portal and Salesforce Knowledge Center that would be accessible by DC employees and administrative users.
The team at GROW created a Learning Management System (LMS) that integrates with MyDCAS using the Simple LMS framework.
Learning Management System (LMS)
Seamless Integration
Online Training & Course Player
Learner & Curriculum Metrics and Reporting
Single Sign-on Integration
Metrics Dashboards
Salesforce Knowledge Base Integration
Role-Based User Experience (UX)
Specific Challenges
The MyDCAS website portal is accessed by employees across multiple government health and human service programs, which required an LMS capable of delivering employee training to staff members across many departments.
The previous system required team members to rely on PDF-based job aids, resulting in hours of staff time lost searching for information or in contact with the help desk. This system also ran the risk of employees accessing outdated or inaccurate data.
This outdated method left employees unable to find information efficiently and made it challenging for administrators to track training progress.
Solution: A Seamless Learning Experience
The MyDCAS LMS connects directly to the existing MyDCAS website and provides a seamless user experience for DC employees, accessible through a Single Sign-On. Integrated with DC-managed user accounts, the LMS uses SAML authentication to enable employees access using their existing credentials. Though each is a separate application, employees can move easily between the LMS, the internal website portal, and the Salesforce Knowledge Center using one login.
The Salesforce Knowledge Center contains step-by-step guides, training videos, and FAQs. This integration with Salesforce allows course participants to easily navigate from their training to associated documentation, tickets, and other crucial features.
Improved User Roles
The LMS allows for several user roles: learners, trainers, department managers, and course managers. These robust user roles allow for a solution that provides more efficient workflows, ensuring all users have access to the content and capabilities they need.
The LMS offers specific capabilities to users depending on their role. For example, learners have access to a library of courses through in-person, virtual, and online modalities. The system makes it easy for learners to request department manager permission, if needed, to register in a course. Learners can view their course history on a simple dashboard and retake courses when needed.
Trainers have the ability to view all upcoming and past sessions, as well as schedule new, or cancel existing, sessions. Automated notifications send emails and dashboard updates to any registered learners. They can take action against their sessions, manually registering learners, viewing and exporting their rosters, and passing (or failing) participants.
Department managers are offered an easy-to-navigate dashboard that shows learner requests for course enrollment, making it simple to approve or deny them. Automated notifications send emails and dashboard updates to update learners.
The course manager role gives the team the ability to have greater control over the course content within the LMS. Course managers can add trainings and modify online courses easily. They can update course categories, modalities, and review trainers' information and schedules.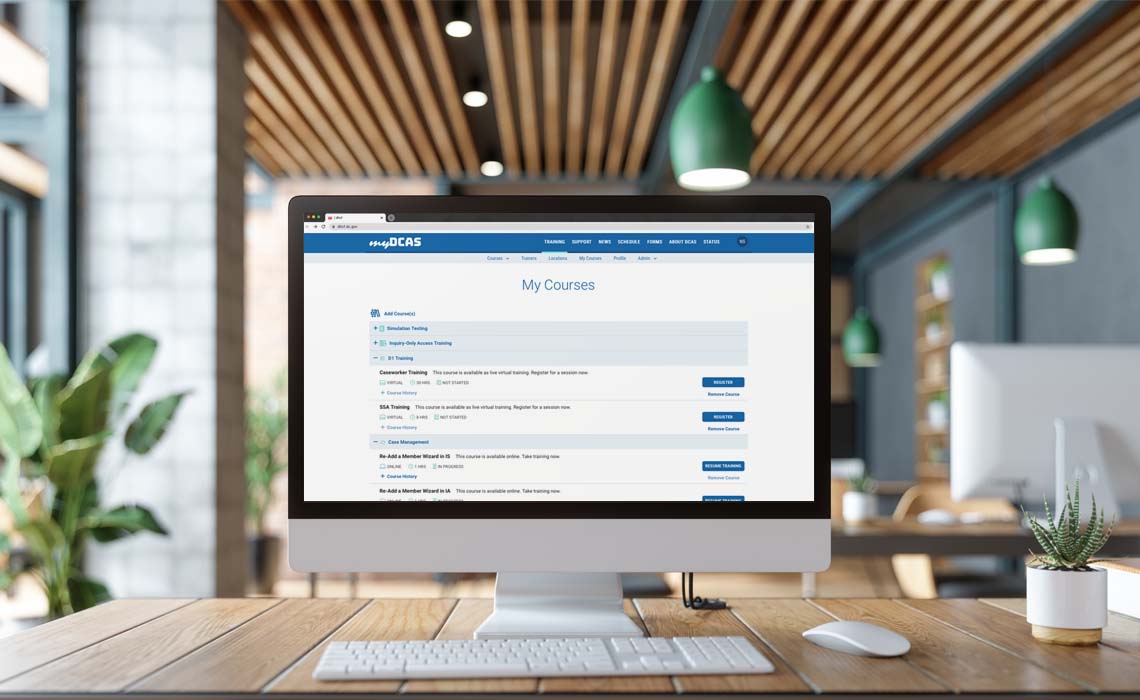 Efficient Workflows
The MyDCAS LMS platform supports multiple training modalities, allowing learners to take online, in-person, and virtual training sessions. The system streamlines the process of completing the required training using the selected modality, allowing the organization to operate more efficiently.
The LMS automates this process, allowing learners to register in courses quickly, giving trainers control over their roster and schedule, and facilitating the process of gathering course feedback from participants upon completion.
For example, a trainer for an in-person course can schedule the session or cancel if need be, and learners are automatically notified. Learners can select the session they are interested in and request manager approval to participate simply within the LMS. Trainers can then view their roster for that class and add pass or fail grades as appropriate. This automated system saves the organization countless emails, phone calls, and paperwork, streamlining multiple processes.
Powerful Reporting Functionality
The reporting dashboard allows users to keep track of courses across all three modalities, online, in-person, and virtual. This offers easy access to data such as:
Trainer details and statistics, including how many courses a trainer is leading, how many hours they're scheduled for, etc.
What courseware users are engaging with and in which modalities.
The length of time learners spend taking a course
Which departments are completing which trainings.
Exam results.
This reporting functionality provides the team with the appropriate documentation to prove compliance with training requirements and allows managers to ensure employees are completing the required trainings.
The ease of use of this solution was immediately apparent. According to a whitepaper by Salesforce, DHFC experienced a drop in help desk calls as soon as a month after the launch of MyDCAS, which includes the integrated LMS. This learning management system allows for greater organizational efficiency, eliminating hours of paperwork, phone calls, and emails.
We're no longer throwing things at the wall just to see what sticks. The learning management system enabled the Department of Health Care Finance to uncover training gaps across the agency and identify when certain individuals need more support in specific areas. Having actual training data has made us more efficient and effective in our approach to training.
Interest in working with team at GROW?
Explore jobs
Reach out
Let's build together.